Mixed Grain Salad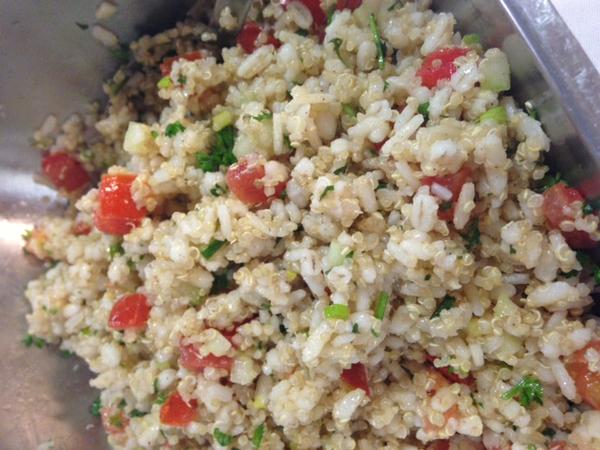 Vegan, Trans Fat Free, Cholesterol Free, Low Sodium, Good Source of Vitamin C
Why settle for one grain when you can have three? Wheatberries, brown rice, and quinoa each contribute something unique to this salad.
Ingredients
1 cup quinoa
1/3 cup wheatberries
1 cup brown rice
1 cup fresh chopped tomatoes
2 Tbs. lemon juice
2 Tbs. olive oil
1/4 cup parsley
1 tsp. black pepper
1/4 tsp. salt

Directions
1. Cook grains according to directions on package. Drain and set aside.
2. While grains are cooking, combine lemon juice, olive oil, parsley, black pepper and salt.
3. Combine grains, tomatoes, and dressing. Toss until evenly coated and combined. May be served warm or cold.


Nutrition Facts (per serving)
160 calories, 50 calories from fat, 5 g fat, 0.5 g saturated fat, 0 mg cholesterol, 85 mg sodium, 25 g carbohydrates, 3 g dietary fiber, 1 g sugar, 4 g protein, 10% DV of Vitamin A, 15% DV of Vitamin C, 2% DV of Calcium, 8% DV of Iron